Digital Output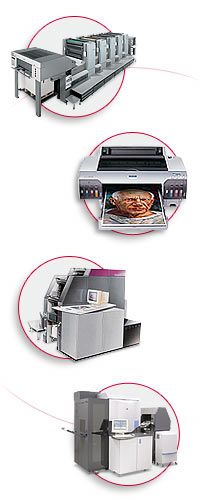 • Wide Format Color Printing
• Fine Art Color and Black and White Printing:
Our fine art and photo print service is our highest quality, premium printing option. These archival prints are of collectible quality, suitable for museum or gallery display. Whether your project is photographic in nature, or consists is fine art, photography or graphic design, you will find the quality of our prints to be exceptional.
• Direct Imaging (DI) Offset Printing:
One of the most important print markets for the future is the short run color. The industry today is characterized by shorter production times, shrinking print runs and a high degree of flexibility. Now you can meet these challenges head-on, without compromising on quality. Direct imaging offset printing has all the technology you need for success on today's competitive markets. This solution for printing short color runs in 13 x18 and 18.5 x 25 inch formats gives you exactly what you need - offset-quality printing for short print runs customized to target group needs, short delivery times, and high flexibility
• Digital Printing:
Print-on-demand short run affordable 4-color printing is now a reality. The efficiency of digital printing with the near quality of traditional offset printing. Save time and money by sending your files directly to press for fast, affordable digital 4-color printing.
• Offset Printing:
When you are in need of brochures, posters, calendar, presentation folders, press kits, or postcards you will always receive the best price for the best quality printing services from our color printing pros. This will enable your next printing job to be the color printing success you require.
• Digital Proofing:
Epson and Canon proofs up to 8-page (SOWP certified)
• Digital Halftone Proofing:
Fujicolor and Creo up to 8-page (SOWP certified)
• Image setting:
Fujicolor film output up to 8-page
• CD and DVD Services