Fine Art Reproductions (Giclée prints)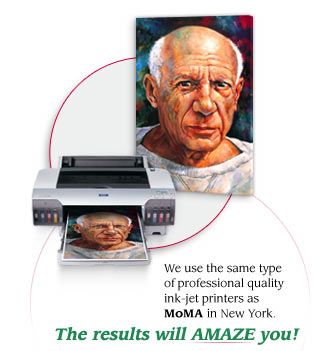 The Giclée (pronounced zhee-klay) process is widely considered to be the standard of excellence in fine art reproduction. Taking advantage of recent improvements in digital technology, Giclée printing renders imagery in extraordinarily accurate color and detail.
Who should be using Giclée printing?
Ideally, Giclée prints are the perfect means for artists and photographers to reproduce their artwork in limited quantities or on-demand. Because Giclées are printed with archival pigments and on high quality acid-free materials, they have great longevity, and as a result are considered much more valuable than other reproductions.
What's involved?
The transfer process begins with either a high-resolution photograph or scan of your artwork. Our skilled color experts then process this file to ensure that it matches your original artwork as closely as possible. Your Giclée is finally printed on the canvas or fine-art paper of your choice. TruSynergies will archive the digital file so that you can produce more prints as often as you like, with absolutely no degradation of quality.
Call us at today at 954-962-5230 to learn more about this amazing reproduction method. We'll put as much care and passion into reproducing your masterpiece as you did creating it.