Finishing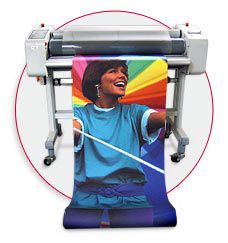 • Film Lamination and Mounting:
(A)TruColor's Seal 410 commercial laminator is designed for hot or cold operation and can accommodate work up to 43-inches wide. Our laminates range from simple one-sides to encapsulations to mounting on Plexiglas. They're ideal for window decals, backlit, flexible and rigid display graphics, floor graphics, and many more applications. Our production capabilities include heat-activated mounting and laminating as well as pressure sensitive mounting and laminating, (both on material up to 1-inch thick) – and we can handle ink jet, photographic, electrostatic, and lithographic media.
(B)The final stage for your image is mounting and lamination. Ultimate care is given to the product with consideration to type of usage and display environment. Trust a professional to advise the appropriate manner to display your projects for years to come.
Because we use heat and pressure laminations and adhesives, we can finish practically any application for you.
Illustration board & Foam core are primarily used for layout, mock-ups, and single use applications. Polystyrene and Sintra is a rigid plastic, and is an excellent material for images that will be framed. Gatorfoam & Masonite are good for displaying your print without the need of framing. Masonite usually has hanging bars attached to the back. Plexiglass is used to mount display transparencies.
(C) Final perfection begins with choosing the correct finish and mounting substrate for your marketing display. Extra care and patience in the preproduction phase, attention to details, using quality materials and the right equipment assure you of a quality job every time.
We instill confidence in our customers by meeting or exceeding their expectations for quality and delivery.
We can laminate with a 3,5,10 mil gloss, satin or matte finish laminate. All are UV coated for longer durability in sunlight. Lamination increase the life of the poster, by adding a protective film covering over the actual printed poster. This protect the poster from water damage, sun light, tears and wrinkles.
• Liquid Coating
• Binding and Die Cutting